Uttar Pradesh

topographic map

Click on the map to display elevation.
About this map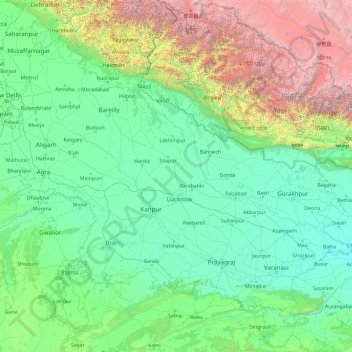 Minimum elevation: 46 m
Maximum elevation: 7,879 m
Uttar Pradesh, with a total area of 243,290 square kilometres (93,935 sq mi), is India's fourth-largest state in terms of land area and is roughly of same size as United Kingdom. It is situated on the northern spout of India and shares an international boundary with Nepal. The Himalayas border the state on the north, but the plains that cover most of the state are distinctly different from those high mountains. The larger Gangetic Plain region is in the north; it includes the Ganges-Yamuna Doab, the Ghaghra plains, the Ganges plains and the Terai. The smaller Vindhya Range and plateau region are in the south. It is characterised by hard rock strata and a varied topography of hills, plains, valleys and plateaus. The Bhabhar tract gives place to the terai area which is covered with tall elephant grass and thick forests interspersed with marshes and swamps. The sluggish rivers of the bhabhar deepen in this area, their course running through a tangled mass of thick undergrowth. The terai runs parallel to the bhabhar in a thin strip. The entire alluvial plain is divided into three sub-regions. The first in the eastern tract consisting of 14 districts which are subject to periodical floods and droughts and have been classified as scarcity areas. These districts have the highest density of population which gives the lowest per capita land. The other two regions, the central and the western, are comparatively better with a well-developed irrigation system. They suffer from waterlogging and large-scale user tracts. In addition, the area is fairly arid. The state has more than 32 large and small rivers; of them, the Ganga, Yamuna, Saraswati, Sarayu, Betwa, and Ghaghara are larger and of religious importance in Hinduism.
Other topographic maps
Click on a map to view its topography, its elevation and its terrain.