Salem

topographic map

Click on the map to display elevation.
About this map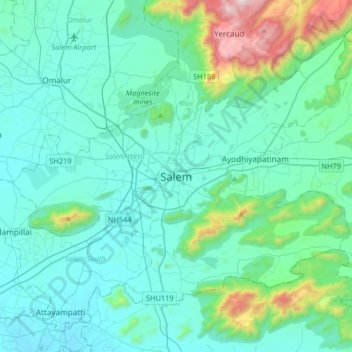 Minimum elevation: 218 m
Maximum elevation: 1,626 m
Salem is located at 11°40′N 78°08′E / 11.67°N 78.14°E / 11.67; 78.14, at an average elevation of 278 m (912 ft). The city is surrounded by hills: Nagaramalai on the north, Jarugumalai on the south, Kanjamalai on the west, Godumalai on the east and the Shevaroy Hills on the northeast. Kariyaperumal Hill is in southwestern Salem. The Thirumanimutharu River flows through the city, dividing it in two. The fort area is the oldest part of Salem.