Jammu and Kashmir

topographic map

Click on the map to display elevation.
About this map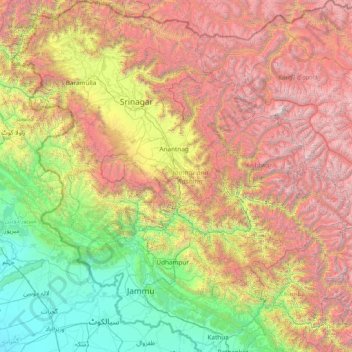 Minimum elevation: 208 m
Maximum elevation: 7,015 m
Jammu and Kashmir is home to several valleys such as the Kashmir Valley, Tawi Valley, Chenab Valley, Poonch Valley, Sind Valley, and Lidder Valley. The Kashmir valley is 100 km (62 mi) wide and 15,520.3 km2 (5,992.4 sq mi) in area. The Himalayas divide the Kashmir valley from the Tibetan plateau while the Pir Panjal range, which encloses the valley from the west and the south, separates it from the Punjab Plain of the Indo-Gangetic Plain. Along the northeastern flank of the Valley runs the main range of the Himalayas. This valley has an average height of 1,850 metres (6,070 ft) above sea-level, but the surrounding Pir Panjal range has an average elevation of 10,000 feet (3,000 m). The Jhelum River is the major Himalayan river which flows through the Kashmir valley. The southern Jammu region is mostly mountainous, with the Shivaliks, the middle and the great Himalayas running parallel to each other in a southeast-northwest direction. A narrow southwestern strip constitutes fertile plains. The Chenab, Tawi and Ravi are important rivers flowing through the Jammu region.
Other topographic maps
Click on a map to view its topography, its elevation and its terrain.