Tiruvannamalai

topographic map

Click on the map to display elevation.
About this map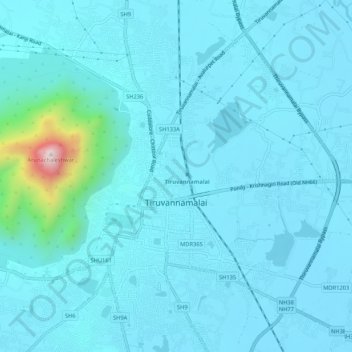 Minimum elevation: 149 m
Maximum elevation: 788 m
Located on the foothills of Annamalai hills, Tiruvannamalai has been ruled by the Pallavas, the Medieval Cholas, the Later Cholas, Hoysalas, the Vijayanagar Empire, the Carnatic kingdom, Tipu Sultan, and the British. It served as the capital of the Hoysalas. The town is built around the Annamalaiyar Temple like other Nayak capitals. Tiruvannamalai is administered by a special-grade a municipality constituted in 1886. Tiruvannamalai has an average elevation of 200 metres (660 ft) and experiences a hot and humid climate. Being a pilgrimage town, most of the people are employed in the tertiary sector. There are 25 elementary schools, nine high schools, 18 higher secondary schools, four arts & science colleges, one government medical college and four engineering colleges in the town.