Houston

topographic map

Click on the map to display elevation.
About this map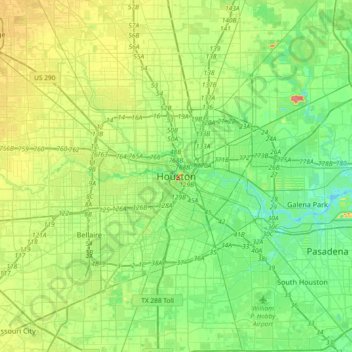 Minimum elevation: 0 m
Maximum elevation: 53 m
Houston is located 165 miles (266 km) east of Austin, 88 miles (142 km) west of the Louisiana border, and 250 miles (400 km) south of Dallas. The city has a total area of 637.4 square miles (1,651 km2); this comprises over 599.59 square miles (1,552.9 km2) of land and 22.3 square miles (58 km2) covered by water. Most of Houston is located on the gulf coastal plain, and its vegetation is classified as Western Gulf coastal grasslands while further north, it transitions into a subtropical jungle, the Big Thicket. Much of the city was built on forested land, marshes, or swamps, and are all still visible in surrounding areas. Flat terrain and extensive greenfield development have combined to worsen flooding. Downtown stands about 50 feet (15 m) above sea level, and the highest point in far northwest Houston is about 150 feet (46 m) in elevation. The city once relied on groundwater for its needs, but land subsidence forced the city to turn to ground-level water sources such as Lake Houston, Lake Conroe, and Lake Livingston. The city owns surface water rights for 1.20 billion gallons of water a day in addition to 150 million gallons a day of groundwater.