Nainital

topographic map

Click on the map to display elevation.
About this map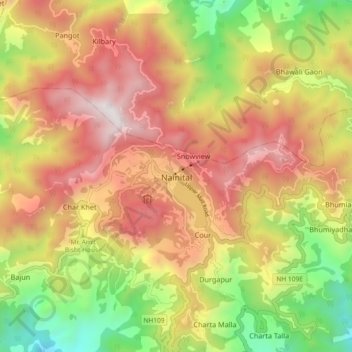 Minimum elevation: 960 m
Maximum elevation: 2,614 m
The city of Nainital covers a total area of 11.73 km2 (4.53 sq mi), and is located at 29°23′N 79°27′E / 29.38°N 79.45°E / 29.38; 79.45, at an average elevation of 2,084 metres (6,837 ft) above sea level. The slopes of the nearby mountains are most populated, with an elevation ranging from 1,940–2,100 m (6,360–6,890 ft). The highest point nearby is the Naina Peak or China Peak, with an elevation of 2,619 m (8,593 ft). The city is located in the Kumaon foothills of the outer Himalayas at a distance of 285 km (177 mi) from the state capital Dehradun and 345 km (214 mi) from New Delhi, the capital of India.