Mumbai

topographic map

Click on the map to display elevation.
About this map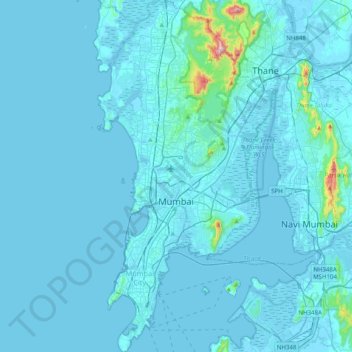 Minimum elevation: -3 m
Maximum elevation: 483 m
Mumbai is on a narrow peninsula on the southwest of Salsette Island, which lies between the Arabian Sea to the west, Thane Creek to the east and Vasai Creek to the north. Mumbai's suburban district occupies most of the island. Navi Mumbai is east of Thane Creek and Thane is north of Vasai Creek. Mumbai consists of two distinct regions: Mumbai City district and Mumbai Suburban district, which form two separate revenue districts of Maharashtra. The city district region is also commonly referred to as the Island City or South Mumbai. The total area of Mumbai is 603.4 km2 (233 sq mi). Of this, the island city spans 67.79 km2 (26 sq mi), while the suburban district spans 370 km2 (143 sq mi), together accounting for 437.71 km2 (169 sq mi) under the administration of Municipal Corporation of Greater Mumbai (MCGM). The remaining areas belong to various Defence establishments, the Mumbai Port Trust, the Atomic Energy Commission and the Borivali National Park, which are out of the jurisdiction of the MCGM. The Mumbai Metropolitan Region which includes portions of Thane, Palghar and Raigad districts in addition to Greater Mumbai, covers an area of 4,355 km2 (1681.5 sq mi). Mumbai lies at the mouth of the Ulhas River on the western coast of India, in the coastal region known as the Konkan. It sits on Salsette Island (Sashti Island), which it partially shares with the Thane district. Mumbai is bounded by the Arabian Sea to the west. Many parts of the city lie just above sea level, with elevations ranging from 10 m (33 ft) to 15 m (49 ft); the city has an average elevation of 14 m (46 ft). Northern Mumbai (Salsette) is hilly, and the highest point in the city is 450 m (1,476 ft) at Salsette in the Powai–Kanheri ranges. The Sanjay Gandhi National Park (Borivali National Park) is located partly in the Mumbai suburban district, and partly in the Thane district, and it extends over an area of 103.09 km2 (39.80 sq mi).
Other topographic maps
Click on a map to view its topography, its elevation and its terrain.